Today, there are few items which embody the craft of knitting quite like the sock. Along with a few other projects, such as Sweaters and Scarves, the sock represents an iconic example of the knitted garment. Perhaps this is because of the long history of the sock, dating back as far as 200AD where samples were found in Syria. Whatever the case, the sock is a project which most knitters will attempt to tackle at some point in their lives.
Socks are very appealing projects. They're small, which makes them highly portable. They're relatively easy, requiring only some basic skills in Circular knitting, Increasing, Decreasing, and Grafting. And they provide unlimited options for creativity. Furthermore, unlike many knitting projects, which tend to be focused on cold-weather items (scarves, sweaters, and the like), socks can be worn and enjoyed all year round.
Anatomy of a Sock
Edit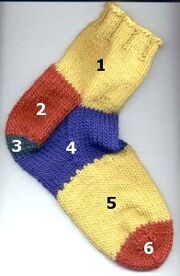 The sock, like many other Basic Patterns in knitting, has it's own set of terminology, which is used by knitters to identify the various sections of the sock. Each section can be thought of as a phase in sock construction, and requires different techniques and procedures.
In the diagram, you see a colour-coded depiction of a sock. The sections are named as follows:
Cuff
Heel Flap
Heel Turn
Gusset
Foot
Toe
Typically, a Basic Sock will be knitted top down, starting at the cuff. However, one may also knit socks Toe-Up
References
Edit
Community content is available under
CC-BY-SA
unless otherwise noted.